Monte da Madeira
Villa Portugal
Monte da Madeira
Check-in from:
16.00 hour
Check-out before
0.00 hour
We enjoy catering for your breakfast or lunch and cooking you diner a couple a times a week. We aim to give you a taste of local, fresh products. At diner we also serve delicious Alentejan wines.
It might be a good idea to include in you reservation that you want to use this service on your day of arrival. That way your stay starts easy and relaxed. We can also offer to arrange for a filled shopping basket at your arrival and freshly baked bread for your breakfast.
The use of washing machine, dryer and flatiron is available upon request.
Villa with private pool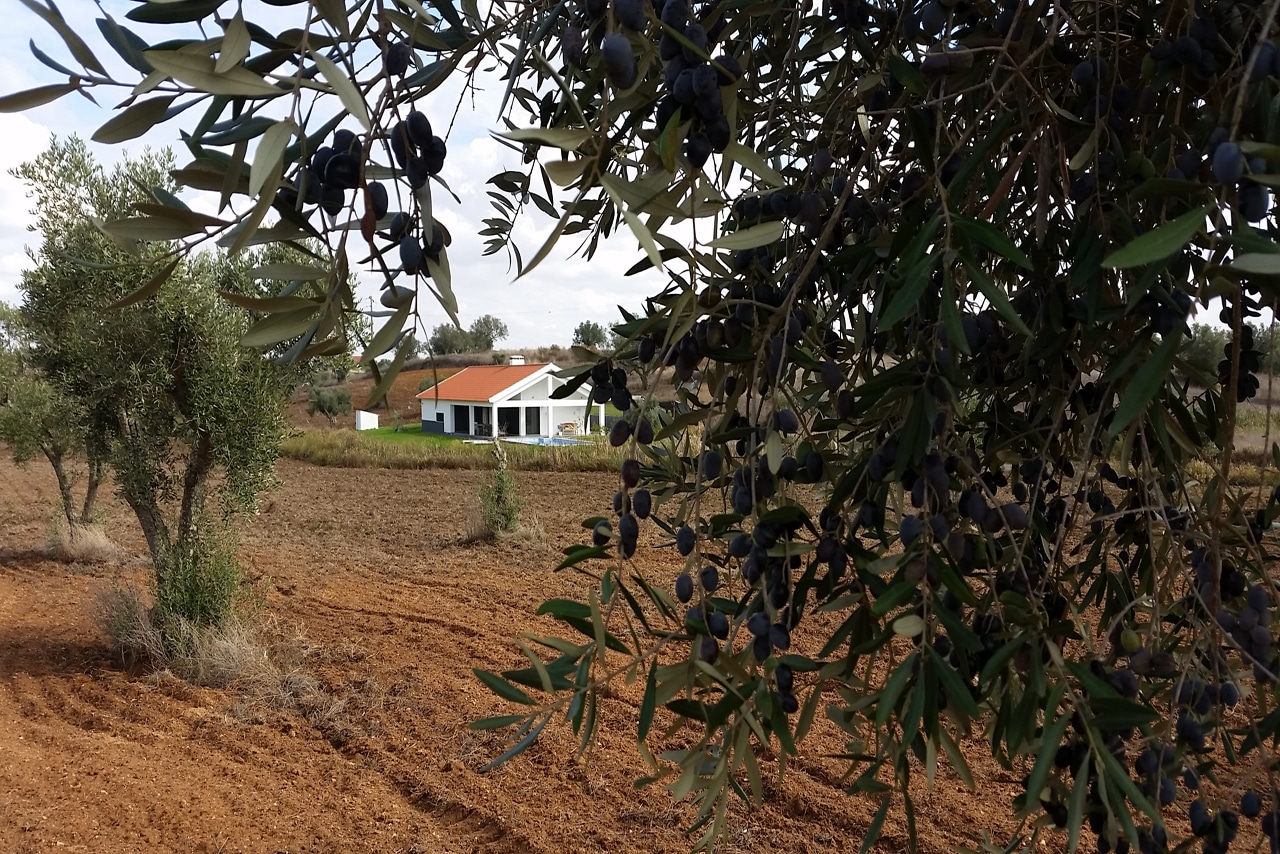 Within walking distance from 
our estate

we manage a magnificent

6 person's vacation villa

The villa sits on its own land of 30.000 m2 and is surrounded by decks with a lot of

privacy

.
The private pool is located next to the big porch. We have chosen to minimize energy consumption. The design of the house has taken into account the position of the sun in the hot summers, the cool nights, and the mild winters. The way this house is insulated makes it so air conditioning is not needed. The pleasantly furnished living room on the ground floor has floor heating and a wood-burning stove (salamandra) You can rent Monte Madeira with 2 bedrooms (T2) or 3 bedrooms (T3).
A well equipped kitchen with fridge, dishwasher, a big oven (90 cm), and cooking plate (6 burners) is at your disposal. There is also television, CD player, and the possibility of internet. There is also a washing machine at your disposal. The 3 bedrooms are located on the ground floor. Each of these rooms have 2 box spring beds, a walk-in closet, its own bathroom with shower, sink, lavatory, and floor heating. One bathroom also has a bath. Baby beds are available upon request. Because the house has no adjacent buildings there is no light pollution whatsoever, so you can enjoy a beautiful starry evening.
Staying the winter
If you're looking for a longer stay in peaceful surroundings, our guest house is an ideal place to stay the winter. During the winter months, the temperature can rise to about 20 degrees Celsius. You can go on a nature walk, go on cultural trips, or just get a breath of fresh sea-air along the coast.
Check
Availibility


and

Book

 Monte da Madeira
Monte Madeira (T2) 2 bedrooms, max. 4 persons:

Monte Madeira (T3) 3 bedrooms, max. 6 persons:

Below you can see the prices of Monte da Madeira. If Monte da Madeira is unavailable in the period you prefer, we can alternatively offer you one of our other villas.
Price per nigth based on 4 people
january, february, march & november, december €85,00
april, may, june & september, october €115,00
july & august €140,00
Wintering: on request
Price per night based on 6 people
january, february, march & november, december €100,00
april, may, june & september, october €135,00
july & august €160,00
Wintering: on request
If you have any question please feel free to send us an email or call us directly.
+351-962014901
+351-912397637