Monte da Madeira
Villa Portugal
Monte da Madeira
Max. number of persons: 6
Check-in from:
16.00 hour
Check-out from:
11.00 hour
Services
wifi internet

breakfast service on request

Bedding towels

hairdryer

satellite TV / radio

DVD player

information folder

books

BBQ

own parking space
Villa with private pool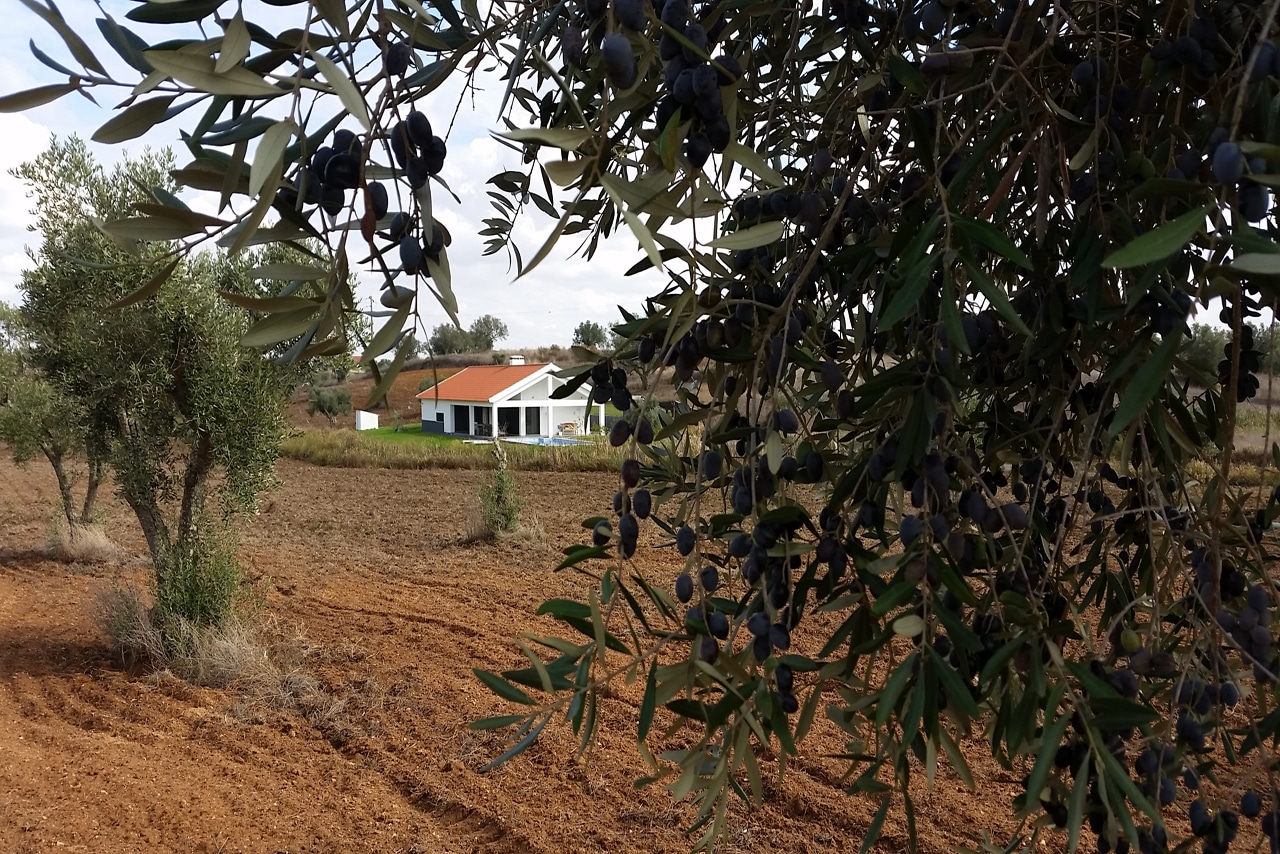 Within walking distance of 
our own estate

, we manage a beautiful 

6 person's vacation villa

. This house has surrounding terraces with lots of 

privacy.
Monte da Madeira is completely free and has terraces around with lots of privacy. The private swimming pool (5 × 10 m) is located right next to the covered terrace. The design of this house takes into account the position of the sun in the hot summers, the cool nights and the mild winters. The house is well insulated and therefore no air conditioning is required. You can rent Monte Madeira with 2 bedrooms (T2) or 3 bedrooms (T3).
This house has a generously furnished living room with dining area and living room. There is satellite television (including Dutch-language channels) and a DVD player. Moreover, the use of WiFi is free. The large windows offer a beautiful view to the west and an unobstructed view of beautiful old olive trees. On winter evenings, the (floor) heating and the salamandra (wood stove) provide a pleasant warmth. There are games, books and walking routes. The large kitchen has a fridge-freezer, 6-burner gas stove with 2 electric ovens and a dishwasher. The utility room has a washing machine and tumble dryer. The house has 3 bedrooms. Each bedroom has 2 box springs (90 x 200) and a private bathroom with walk-in shower, sink and toilet. The master bedroom has a bathroom with a shower and a separate bath.
On request we can place an extra baby cot.
This house is completely free. There is no light pollution so you can enjoy the beautiful starry sky in the evening.
Check
Availibility


and

Book

 Monte da Madeira
Monte Madeira (T2) 2 bedrooms, max. 4 persons:

Monte Madeira (T3) 3 bedrooms, max. 6 persons:

Below you can see the prices of Monte da Madeira.
Filling in the reservation form is not a definitive booking. We will let you know quickly whether the booking can be honored.
Check your spam folder if you haven't received anything after a day.
If Monte da Madeira is not available in the desired period, try one of our other holiday homes.
Price per nigth based on 4 people
january, february, march & november, december €85,00
april, may, june & september, october €115,00
july & august €140,00
Wintering: on request
Price per night based on 6 people
january, february, march & november, december €100,00
april, may, june & september, october €135,00
july & august €160,00
Wintering: on request
If you have any question please feel free to send us an email or call us directly.
+351-962014901 (Wiro)
+351-912397637 (Margriet)
info@mudanca.nl