Choupana ChicoZé
Eco-Chalet Portugal
Choupana ChicoZé
Max. 2 persons
Check-in from:
16.00 hour
Check-out until
12.00 hour
Services
wifi internet
breakfast service on request
bed linen (weekly)
towels (twice a week)
bathrobes
information folder
books and games
private parking
swimming pool and Cabana 50 meters away
Shared pool with Casa a Oliveira and Choupana ChicoZé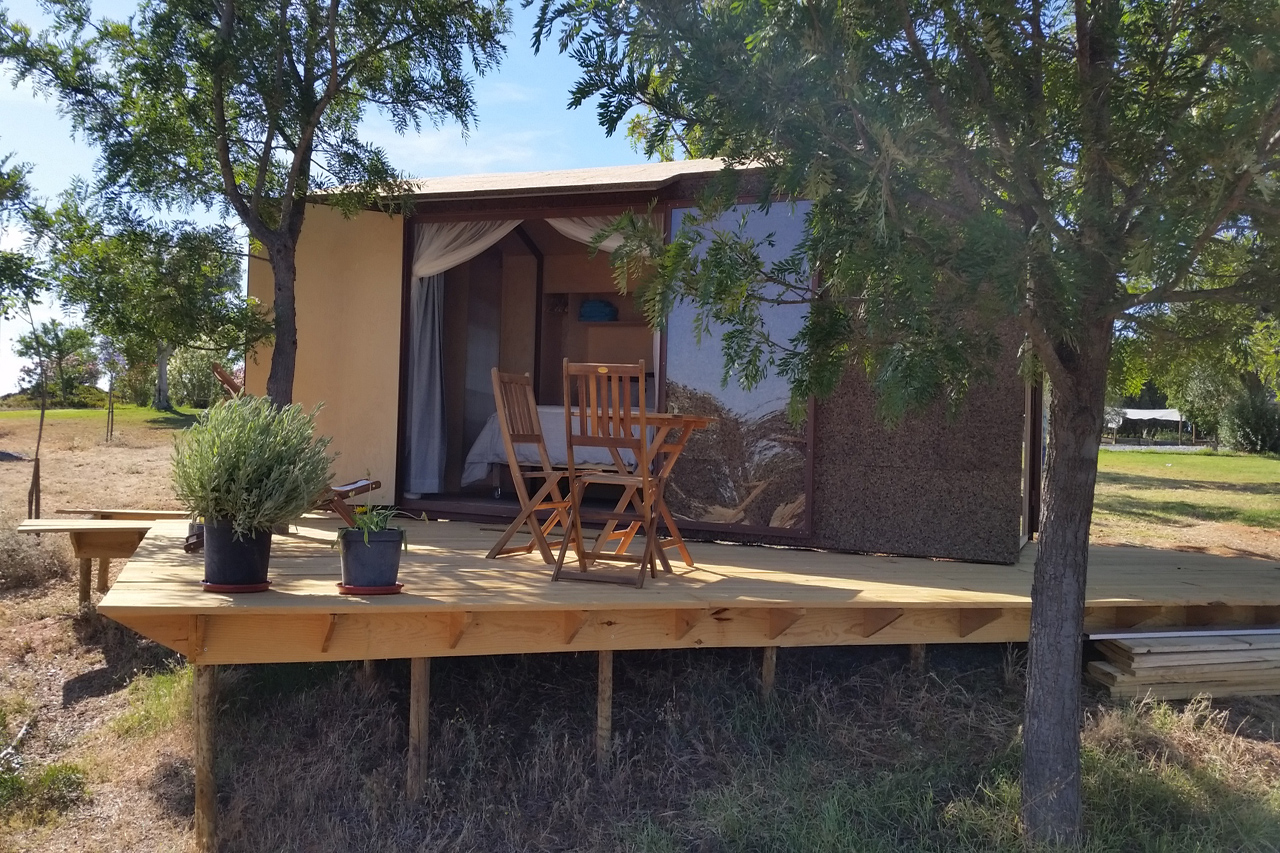 Are you looking for something  
different and special

for you next 

holiday?

We have the

perfect

answer.
Choupana Abilardo is a shepherd's hut for 2 people and overlooks a shallow valley. The design is eco-friendly. The hut is made of wood and cork, which naturally has good insulating properties. In all seasons it is a comfortable place to explore the area.
With 4 people? You can also rent 2 choupana's.
The Chalet itself covers 15m2 and consist of a shower room containing shower and dry ecological toilet, a sleeping area with a bed for two and storage space underneath, a sitting area and kitchen space with everything you require, cabinet with sink unit, refrigerator, electric kettle, induction plate and seating for two. We provide towels and bathrobes, books , games and any information you require to make your stay with us a pleasure.
A lovely feature of the small house is that a part of the walls can be opened up making it possible for you to enjoy the view either from your chair with a cool drink or even from your bed if you wish. The large windows also offer you stunning views of the surrounding meadows where many unusual birds can be spotted.
The hut has a wooden terrace that lies in the shelter of some siver oaks. You can always sit in the sun or shade or in the evening enjoy the beautiful starry sky. Choupana ChicoZé has a small sanitary unit with a shower and an ecological dry toilet. The living space of the hut covers 15m2. Here is a good 2-bed with storage space underneath. In addition, there is a low cupboard with sink, fridge, kettle and induction plate and a seat with 2 chairs. You can open one of the walls completely. This makes it possible to enjoy nature directly from your bed or chair. The large windows offer a meadow look at the surroundings and there are books, games and an information folder. Bed linen, bathrobes and towels are provided.
In conclusion a perfect getaway from the hustle and bustle of everyday life.
Check
Availibility


and

Book

 Choupana ChicoZé
Below you can see the prices of Choupana ChicoZé. If Choupana ChicoZé is unavailable in the period you prefer, we can alternatively offer you one of our other villas.
Price per night based on 2 people
january, february, march & november, december €39,00
april, may, june & september, october €55,00
july & august €65,00
Combination 2 choupana's and wintering: on request
If you have any question please feel free to send us an email or call us directly.
+351-962014901
+351-912397637