Choupana ChicoZé
Eco-Chalet Portugal
Choupana ChicoZé
Check-in from:
16.00 hour
Check-out until
11.00 hour
We enjoy catering for your breakfast or lunch and cooking you diner a couple a times a week. We aim to give you a taste of local, fresh products. At diner we also serve delicious Alentejan wines.
It might be a good idea to include in you reservation that you want to use this service on your day of arrival. That way your stay starts easy and relaxed. We can also offer to arrange for a filled shopping basket at your arrival and freshly baked bread for your breakfast.
The use of washing machine, dryer and flatiron is available upon request.
Chalet with shared pool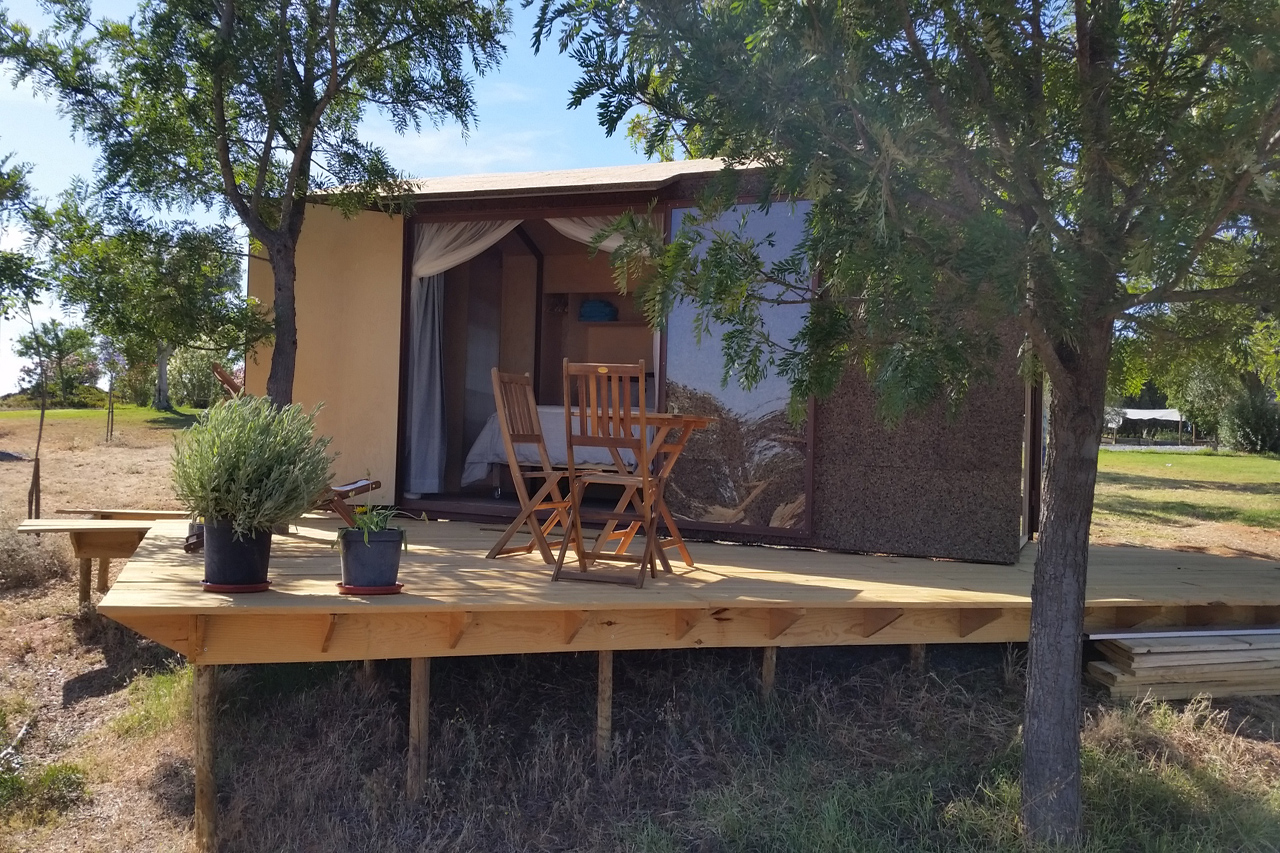 Are you looking for something  
different and special

for you next 

holiday?

We have the

perfect

answer.
Situated in the heart of the beautiful Alentejo Region of Portugal we have on our site a perfect getaway for two people. Historically called a Shepherds Hut our brand new Chalet " Choupana ChicoZé" offers the perfect tranquil place for you to enjoy scenery and nature at it's finest.
The design of the Chalet is Eco friendly made from wood and cork giving it perfect insulation for all seasons. The chalet has a wooden terrace which lies under some big trees , where you can choose to sun yourself or sit in the shade.
Just thirty metres away you may have use of the swimming pool , for cooling down on hot sunny days.
The Chalet itself covers 15m2 and consist of a shower room containing shower and dry ecological toilet, a sleeping area with a bed for two and storage space underneath, a sitting area and kitchen space with everything you require, cabinet with sink unit, refrigerator, electric kettle, induction plate and seating for two. We provide towels and bathrobes, books , games and any information you require to make your stay with us a pleasure.
A lovely feature of the small house is that a part of the walls can be opened up making it possible for you to enjoy the view either from your chair with a cool drink or even from your bed if you wish. The large windows also offer you stunning views of the surrounding meadows where many unusual birds can be spotted. In conclusion a perfect getaway from the hustle and bustle of everyday life.
Check
Availibility


and

Book

 Choupana ChicoZé
Below you can see the prices of Choupana ChicoZé. If Choupana ChicoZé is unavailable in the period you prefer, we can alternatively offer you one of our other villas.
Price per night based on 2 people
january, february, march & november, december €35,00
april, may, june & september, october €55,00
july & august €65,00
Combination 2 choupana's and wintering: on request
If you have any question please feel free to send us an email or call us directly.
+351-962014901
+351-912397637